Competitively Priced Mexican Beach Pebbles – Delivered Anywhere in the U.S.
Best Mexican Beach Pebbles™ offers competitively priced beach pebbles anywhere in the United States while providing the high quality our customers expect. We offer PRICE MATCH GUARANTEE and we will gladly match any price quote from another company for the same type and quality rock. With us, you are buying decorative stone DIRECT from our beaches in Baja California. We own and operate our own pebble beaches, and we collect, sort and bag our river rock, which is then shipped to our U.S. rock yard, and from there directly to you. There is no middleman, so you get the best quality, service, and pricing.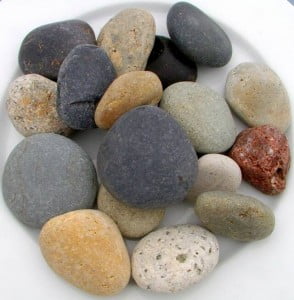 When Buying from Best Mexican Beach Pebbles™, You Get:
DIRECT source of Mexican beach pebbles
No middleman!
Best quality of anyone in the U.S.
Special truckload pricing
Competitive pricing on smaller quantities
Unlimited quantities
Delivery anywhere in the contiguous U.S.
* Please fill out this Quote Request form to receive a precise price.
Why Do I Need To Fill Out This Form to Get My Price?
Because freight impacts pricing substantially, we need to know the exact destination (ZIP CODE) where to ship the product, and a few other basic details.Filling out the Quote Request form takes seconds, and it will ensure that you get the most accurate price quote fast!
Delivery Included – Anywhere in the U.S.
All our price quotes include delivery to customer. We have many years' experience delivering beach pebbles (also known as river rock pebbles) to customers anywhere in the U.S. (please call us for special arrangements if you are located in Hawaii or Alaska). Best Mexican Beach Pebbles is equipped to handle large deliveries (truckloads), and we can also deliver small quantities quickly to various destinations. Various forklift and liftgate arrangements available.
Excellent References
We are proud of our impeccable record and we can provide excellent references from satisfied customers throughout the United States. Ask us about it! Most of our large-volume customers place repeat orders, and we have years-long relationships with many of them. At Best Mexican Beach Pebbles, we understand that quality is of the utmost importance to our valued customers, and we offer nothing but the best landscaping pebbles – smooth, uniform, and consistent in color. No broken pebbles, no misshapen stones, no "fillers" mixed in. Only beautiful, natural ocean pebbles picked from our beaches in Baja California, Mexico.